Types of Manicures and Pedicures
Types of Manicures and Pedicures

Manicures and pedicures are spa treatments that leave your hands and feet feeling clean and soothed and you feeling pampered. Choosing the correct type of manicure and pedicure enhances your salon experience. A manicure is a cosmetic beauty treatment for the fingernails and hands performed at home or in a nail spa. A manicure consists of filing, shaping of the free edge, pushing (with cuticle pusher) and clipping (with cuticle nippers) any nonliving tissue (limited to cuticle and hangnails) from the nail plate, treatments, massage of the hand and the application of polish. When applied to the toenails and feet, this treatment is referred to as a pedicure.
Other nail treatments may include the application of artificial nail gels, tips, or acrylics, some of which are referred to as French manicures.
Regular Manicure and Pedicure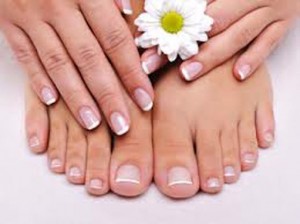 Regular manicures and pedicures provide the most basic nail care at a salon. A regular manicure includes soaking your hands in warm soapy water to soothe and soften dead skin cells. Your fingernails are cleaned, clipped and filed. The nail technician moisturizes your hands and polishes your nails with a base coat, a main coat and top coat. During a regular pedicure, you soak your feet in a warm tub of water. The nail technician scrubs your feet to rid them of any dead skin or imperfections. The technician clips and files your toenails and briefly massages your legs and feet before applying a soothing lotion. Your toenails are painted with a base coat, main coat and top coat of polish.
French Manicure and Pedicure

The French manicure and pedicure is chic and classic. Your hands and feet are treated the same way as they are during a regular manicure and pedicure. The technician applies a polish in a neutral translucent color such as a clear white or pale pink over the entire nail, followed by white polish on the tips of the nails. This style of manicure and pedicure mimics and enhances the look of natural nails.
Spa Manicure and Pedicure

A spa manicure is a longer and more involved treatment for fingernails and toenails than the regular manicure. While it involves the same process as a regular manicure and pedicure, the process finishes with an additional treatment depending on the salon. According to the MySpaGuide website, a glycolic exfoliation or a paraffin wax treatment may be offered as a treatment. "Glycolic exfoliation uses the powerful properties of glycolic acid in a cream or gel to dissolve and remove dead and damaged skin cells…. A paraffin wax treatment involves dipping your hands in a warm paraffin wax solution, then covering your hands in plastic bags, and then in gloves." Either treatment exfoliates your hands and feet, leaving them soft and smooth.
Gel or Shellac Manicure and Pedicure

A gel manicure or pedicure involves a special polish that does not chip for at least two weeks. Your nails are clipped and filed, and hands and feet are moisturized as in a regular manicure or pedicure. The gel polish is colored gel, which looks and goes on like regular polish. After each application of each coat — base, main and top — the nail technician puts your nails underneath a UV light to dry the gel, a process known as curing, for 30 seconds to a minute. Nails are completely dry after this process. Salons may offer either gel polish or shellac. Shellac is similar to gel, but is usually priced a little higher because the polish is formulated in a different way than regular gel polish. Shellac takes less time to remove, though there are no noticeable differences between gel and shellac. The removal process can be done at home or at the salon and involves wrapping the nail in acetone using a special nail wrap or cotton ball soaked in acetone and secured with aluminum foil. After a few minutes, the polish is loosened and easily peeled off.
Paraffin treatments
Hands can be dipped in melted paraffin wax for softening and moisturizing. Paraffin wax is used because it can be heated to temperatures of over 95 °F (35 °C) without burning or injuring the hand. The intense heat allows for deeper absorption of emollients and essential oils. The wax is usually infused with various botanical ingredients such as Aloe vera, chamomile, tea tree oil and azulene. Fruit waxes such as peach, apple and strawberry are often used in salons. Paraffin wax treatments are often charged in addition to the standard manicure nail treatments such as pink and whites. As such, they are often not covered in general training and are a rare treatment in most nail salons.
Hot oil manicure
A hot oil manicure is a specific type of manicure that cleans the cuticles and softens them with oil. It works well for dry skin and nails that are brittle as it improves them both by leaving them soft and pliable. Types of oils that can be used are mineral oil, olive oil or commercial preparation in an electric heater.