About Tram Nguyen/Owner
About Tram Nguyen/Owner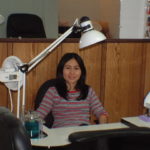 I was born in Chap Cham, Vietnam, in 1967, at the height of the Vietnam War. Thap Cham is a small village east of Nha Trang, near where American Serviceman used to call "China Beach." My village was used as a train depot during the war and saw many battles. I am the youngest child and have 3 brothers and 2 sisters.
My father was a watchmaker, and many times he taught me how to fix watches. My oldest brother died when I was young. My other brother, is now a Vice President of a bank. My oldest sister is married to a lawyer, and she retired recently from the bank my brother works at. Both my mother and father and still alive and live in Vietnam.
I married my husband in 1995, days after President Clinton normalized diplomatic relations with Vietnam. To my knowledge, we were the first couple to get married after restoring diplomatic relations. I met my husband through my cousin who lived in the US while my husband was a volunteer for the Refugee Resettlement Program. We wrote to each other for 3 years. This was before email and the internet. It used to take one month for a letter to get to Vietnam and one month to return.
My husband came to Vietnam in April 1995 and married me in July of 1995.He couldn't remain n Vietnam so he went to Thailand and was a teacher there for 3 years while he worked to get me out of Vietnam. Vietnam was very different in those days. It took over a year to get me out of Vietnam, and we lived together in Thailand the entire time. Thai language was easy for m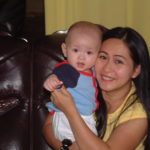 e to learn, and my Thai friends taught me how to cook Thai food. Life was good.
My husband decided to return to the US in 1998 and moved to Oregon in order to obtain citizenship for me. I became a US citizen in 2001. I went to nail school, worked in a local nail salon and opened my own nail business in Oregon. In 2005, I returned to Vietnam to give birth to my son, Lennon. We stayed until 2008 and returned. We settled in Urbandale in 2008. I went to work at a nail shop in the Jordan Creek Mall.
In 2013 I decided it was time to open another salon. I knew I could provide better service, and a more quality nail product, so I opened "Perfect Nails Spa" in Feb.